Released in February 1989, Tecmo Bowl was released in the U.S. While NFL Football by LJN was the first to get the license from the NFL to use its teams and logos, Tecmo Bowl was the first game to get the rights from the NFL Player's Association; as such, it was able to use the names of real players in the game, from Walter Payton to Sean Landeta. However, since Tecmo was unable to get the rights from the NFL itself, it was unable to use actual team names and logos, instead going with the city or state that teams represented and their colors. Each team had four offensive plays: two pass plays and two running plays, with the exception of San Francisco and Miami, who have three pass plays and one running play. Each defense also has four plays; however, they just mimic whatever plays the offense had.
The Teams:


Chicago
Key Players: RB Walter Payton, QB Jim McMahon, KR Dennis Gentry, the entire defense
Cleveland
Key Player: QB Bernie Kosar
Dallas
Key Player: RB Herschel Walker
Denver
Key Players: QB John Elway, RB Tony Dorsett
Indianapolis
Key Player: RB Eric Dickerson
Los Angeles
Key Players: RB Bo Jackson, RB Marcus Allen, WR/KR Tim Brown
Miami
Key Player: QB Dan Marino
Minnesota
Key Players: none (Minnesota has a bad team)
New York
Key Players: QB Phil Simms, LB Lawrence Taylor
San Francisco
Key Players: QB Joe Montana, WR Jerry Rice, FS Ronnie Lott
Seattle
Key Player: QB Dave Krieg
Washington
Key Players: LG Russ Grimm (yes, a guard, and overall they're worse than Minnesota)
Scores:


Gameplay
The game is simple. It's not a sim. It's not like Madden or anything else out today. You don't have to know an entire team's playbook, how to run it, how to beat your opponent's defense, or how to call an audible. Heck, all you have to know about football is that you can score touchdowns and field goals and should punt on fourth down from your half of the field. Having four plays means it's a guessing game, and as long as you can outguess your opponent, you win. There's still some needing to avoid tacklers or throw to the right guy, but a couple games makes it easy to get used to.
A lot of people will complain that if a defender stands right in front of the receiver, you automatically get the interception. Well, tough beans. You should've run the ball that play. And yes, if your player loses in a blocking battle, they get thrown across the field. That just makes it more fun!
Gameplay: 9/10
Graphics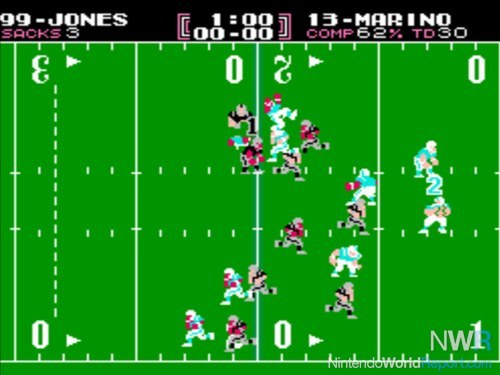 Even for an NES game, the graphics during gameplay are primitive. But not only does it do its job, it has a kind of charm that none of the modern games have. You can tell who the players are, you can tell what the ball is. Really, what more do you need?
Nothing looks particularly good by today's standards; heck, it doesn't look good by the standards of the end of the NES. This looks like slop compared to Kirby's Adventure. But watch those cheesy touchdown celebrations or the halftime show and tell me you don't like it. It may look bad, but you have to love it.
Graphics: 7/10
Sound
You can't find catchier music than this.
There isn't much in the way of music, but it
all
sticks in your head.
Link: Tecmo Bowl - Kickoff Music
As for player sounds, it's over the top, but hey, this was originally an arcade game, it's supposed to be over the top.
Sound: 9/10
Accessibility
There are very few sports games that you can just pick up and play without having ever played before. Wii Sports and the Mario sports games come to mind. But nothing matches a game of Tecmo Bowl. It's almost too cheesy for its own good, but it brings solid gameplay along with charm only matched by its sequel, Tecmo Super Bowl. This is one NES game that I will hold onto until it plays no more. And that will be a very sad day.
Accessibility: 10/10
Overall: 9/10